Every Thursday afternoon, 8-year-old Clara Maddox eagerly awaits her private piano lesson with Amy Weitz. Clara has been taking lessons for a year, and "she's in love with the piano," said her mother, Janet Maddox. "This is the first thing she has wanted to do consistently since we've moved out here."
Maddox's husband is an Airman with the 62nd Maintenance Squadron at McChord Field. He works a lot of hours, and it can be a strain on the family.
"He has a unique position of command (and is) responsible for a lot of people," Maddox said. "I used to be on active-duty with the Air Force - that is how we met - and I understand how hard it is to be responsible for so many people."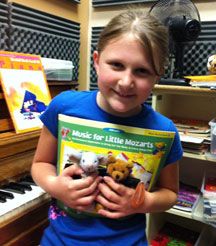 Piano lessons have been a positive and productive activity for Clara, and "she looks forward to lessons every week," Maddox said.
Maddox found Weitz on a published list of private piano teachers at Ted Brown Music. After calling a few of the teachers, she found that Weitz was the most available and flexible, and she turned out to be a perfect piano teacher for Clara.
"Amy is such a patient teacher, and she incorporates fun things like Beethoven Bear," Maddox said. "Clara wants so much to please Amy and works very hard for her."
Clara is enjoying the current curriculum - Music for Little Mozarts, which Weitz selected for her.
In addition to teaching private piano lessons, Weitz is also a classroom teacher.
"I try to teach to the multiple intelligences, so I incorporate that into my instruction," she said. "Lessons are geared toward building upon the strengths of each of my students."
The book that Clara is currently using is geared toward developing finger dexterity in young children. A composer animal character is used as a mnemonic device for the students to press on the piano keys when they are learning notes. As students build confidence, their hands replace the composer animal character. Clara is working with Beethoven Bear right now.
"There are four levels and more composer characters, such as Puccini Pooch, Pachelbel Penguin, Mozart Mouse and Clara Schumann Cat," said Weitz, who has degrees in elementary education and music. "We like that Clara shares names with the Schumann Cat."
"Everyone should have an experience with music in their life," Weitz said. "It helps us become well-rounded people and develop organizational skills because of the structure and routines that are system to learning an instrument or voice."
The benefits of music are immeasurable because of its holistic nature. Music is closely tied to math, reading and social studies. It calls upon multiple learning styles and incorporates social skills.
"I greatly appreciate my military families because they are so respectful," Weitz said. "They cherish the opportunity of having music for their children. Clara always comes in with a smile on her face and mom tells me she could not wait for piano lessons. That makes me feel happy."
For more information, contact Weitz at (360) 349-3788 or melodymakerforyou@msn.com.
Photo: Air Force kid Clara Maddox has been taking lessons for a year and is enjoying her current curriculum, Music for Little Mozarts.