Aspiring female aviators can get the chance to meet several exceptional women in the aerospace field as part of a two-day event this week at the Museum of Flight.
"Women Fly!" is an annual event that gives young women the rare opportunity to meet women in aerospace professions. The two-day program, which runs March 2-3, includes one day of networking activities for young women and aerospace professionals and another day of a panel discussion that's open to the public. The special guest on both days is former astronaut and retired U.S. Navy Capt. Wendy Lawrence. Lawrence is a veteran of four space shuttle flights.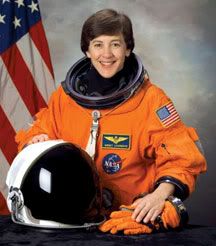 The Friday (March 2) program runs from 8:30 a.m. to 2 p.m., and is open to 100 young women ages 13-17 to participate in a day of motivational and career-oriented activities allowing them to meet and learn from professional women working in a variety of flight-related careers.
Several female cadets from Washington High School's Air Force JROTC unit are heading to the event.
"Women are underrepresented in the aviation field, and so often we equate that field to being a pilot," said Col. John Pardo, the unit's commander. "(The event) introduces the attendees to multiple areas of aviation, including engineering, air traffic control, instructing, airfield management and more."
Volunteering their time are dozens of women aerospace professionals including airport operators, pilots, air traffic controllers and engineers in all disciplines. There will be an afternoon panel discussion with the former astronaut Lawrence, U.S. Navy helicopter pilot Lt. Eileen Crawford, U.S. Navy Lt. Cmdr. Nora Jacobsen and U.S. Navy Helicopter Rescue Aircrewman Melissa Dixon.
"The guests speakers are normally very accomplished woman whose careers span many of these fields and therefore bring real-world experience they can impart on the students," Pardo said. "Holding the event at The Museum of Flight just makes it that much neater and provides another opportunity to expose the students to aviation history."
On Saturday, the 2 p.m. panel discussion includes Lawrence and Jacobsen. Jacobsen has more than 3,100 flight hours in five different navy aircraft and holds an FAA Airline Transport Pilot rating. Her awards include the Navy Commendation Medal, the Joint Service Achievement Medal and the Navy Achievement Medal.
The program is open to the public, and free with paid admission to the museum.
Photo caption: U.S. Navy Capt. Wendy Lawrence, a veteran of four space shuttle flights, will speak to Air Force JROTC cadets from Washington High School at the Museum of Flight.